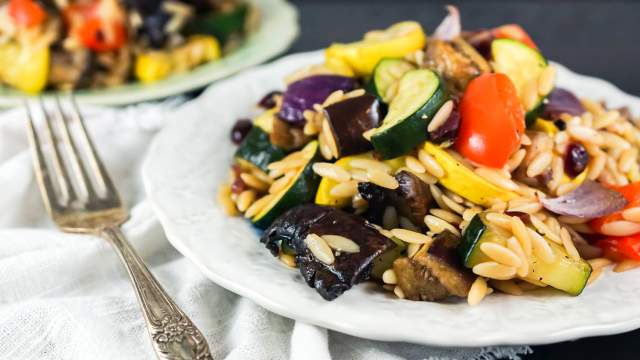 This vegetarian Roasted Vegetable and Orzo dish is full of delicious veggies, sweet and tart cranberries, and hearty orzo for an easy, healthy meatless meal.
I may have a mild obsession with roasting vegetables. It happens almost every Sunday and my husband inevitably rolls his eyes as he watches me fill up three or four sheet pans with veggies, asking who could possibly want to eat that many vegetables. But I just love them. They are the perfect thing to add to salads, sandwiches, your morning eggs, and dishes like this Roasted Vegetable and Orzo dish.
It starts with an Italian inspired combination of zucchini, red peppers, mushrooms, eggplant, and red onion that are simply tossed in olive oil, salt, and pepper. You could add some more spices, but I love the flavor of the veggies when they are seasoned simply. While the veggies do their thing, the orzo is cooked in vegetable broth with some dried cranberries for little sweetness. Then everything is tossed together with your favorite balsamic vinegar. Sometimes I add some fresh herbs as well – basil, sage, parsley, or thyme are all delicious. And if you want some protein, add shrimp, grilled chicken, chickpeas, white beans, or tuna.
Calories 299, Total Fat 9g, Total Carbohydrate 52g, Protein 8g, Serving Size 1.5 cups