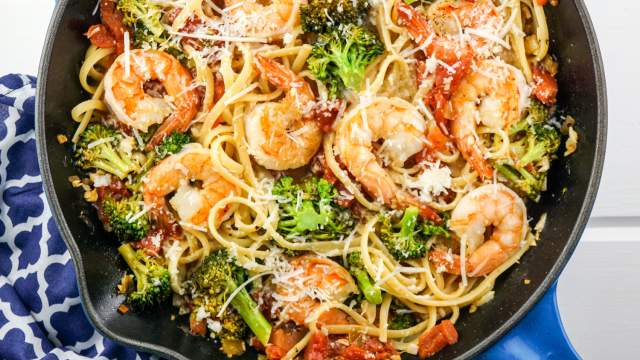 This Lemon Garlic Shrimp and Broccoli Pasta is ready in under 30 minutes and is packed with veggies. Plus it tastes like a restaurant meal for half and cost and calories.
When my husband and I first started dating, it quickly became apparent that his food tastes resembled those of most twelve year old boys. Suffice to say he lived off of burgers, wings, pizza, and tacos. Fast forward ten years and I am proud to say that these days he eats a pretty wide variety of food, even lots of veggies. However, no matter how hard I have tried, I just can't get him to eat seafood. So whenever he won't be home for dinner, I always plan on seafood and plan on a delicious solo dinner packed with my favorite tasty ocean treats.
This past week, I made this yummy lemon garlic shrimp and broccoli pasta. It's made with some quickly cooked shrimp, lots of fresh broccoli, and a quick sauce made with fire roasted tomatoes, chicken broth, and lots of garlic. Delish. Plus it is ready in under 30 minutes, which means plenty of time to indulge in girly TV as well.
For a vegetarian version of the dish, just leave out the shrimp. And if you are looking for something creamy, you could add some reduced fat cream cheese or replace half the chicken broth with fat free half and half, whole milk, or nonfat evaporated milk.
Love shrimp? Try this Shrimp Scampi with Zucchini Noodles, Chipotle Shrimp Tacos, Honey Lime Shrimp, or Shrimp Boil Foil Packets.
Calories 385, Total Fat 11g, Total Carbohydrate 54g, Protein 36g, Serving Size 2 cups