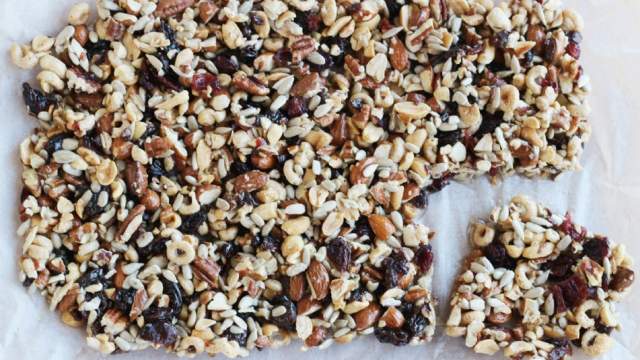 You know those little bags of leftover nuts, dried fruit, and cereal that collect in your pantry? These Fruit and Nut Bars are the perfect way to use them all up. In fact, I affectionately refer to these bars as "Everything But the Kitchen Sink Bars" because I use just about anything I can find in them.
This recipe is so versatile, it is virtually impossible for these things to go wrong. What have you got in your cupboard? Dark chocolate, dried cherries, cheerios? Go for it! Prefer peanuts, apricots and raisins? No problem! The only limit to the potential of this recipe is your imagination. You should never have to hit up the store to prepare this delicious snack, just use what you have on hand! I like to add a variety of spices to the mix too, anything from turmeric to curry powder!
There are also a variety of ways you can prepare these bars. We love them in bar form, but if I don't have time for that, I just toss them together in a bowl and use as a snack or yogurt topping. I also like to toss some in a baggie for a great snack to go. If you are restricting calories try to use a large portion of Cheerios or other unsweetened cereal, since they are much lighter and lower in calories than the nuts. I love the texture that the cereal adds.
In this particular variety, I used light corn syrup. But you can also use brown rice syrup (maple syrup isn't quite thick enough though, so I would avoid that).
I hope you will have as much fun with these Fruit and Nut Bars as I have! Such a fun way to use up the little odds and ends you have laying around the kitchen.
Calories 85, Total Fat 7g, Total Carbohydrate 12g, Protein 3g, Serving Size 1 bar