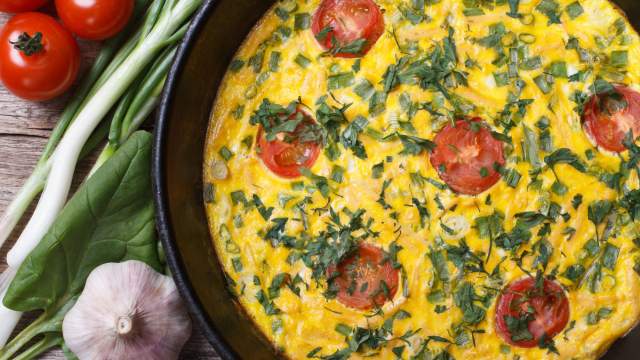 I love a good egg breakfast and this Fresh Herb, Tomato, and Goat Cheese Frittata makes the perfect weekend brunch or quick dinner.
A couple weeks ago we splurged on a fancy weekend brunch and I had the most amazing soft scrambled eggs with tomatoes, goat cheese, and fresh herbs. It was sooooo good and I was licking my plate to gobble up every last morsel. People were probably staring, but I just couldn't help myself.
Since then I have been adding fresh herbs to all my eggs and especially loved this frittata version I made last week for a quick dinner. The fresh herbs take what would be a normal frittata and elevate it to something really special. I used a combination of chives, basil, and parsley but any combination of herbs would work. Try out fresh oregano, dill, rosemary, or watercress. Paired with the goat cheese and sweet cherry tomatoes, it's a combination I will be making again and again.
Looking for more frittata recipes? Try this Asparagus, Mushroom, and Feta Frittata, Pizza Frittata, or Pepper and Goat Cheese Frittata.
Calories 222, Total Fat 15g, Total Carbohydrate 4g, Protein 18g, Serving Size 1 piece