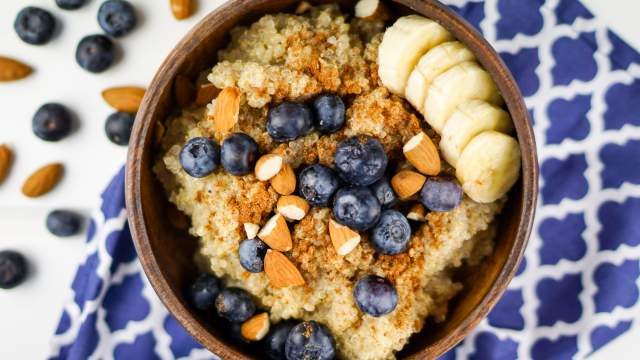 This hearty Cinnamon Quinoa Bowl with Berries is a healthy alternative to your morning oatmeal.
As much as I love oatmeal sometimes I just need a break from it. However I don't like to give up the hearty, fiber filled, staying power of oatmeal. It always keeps me full all morning, which is tough for me to find in a breakfast dish. These Cinnamon Quinoa Breakfast Bowls are the perfect solution if you are burning out on oatmeal like me. The quinoa is fluffy, hearty, and makes a surprisingly delicious breakfast dish. I like to add mashed bananas for sweetness and creaminess. You could also just slice it up and put it on top if you prefer. Then add any fruit you like and breakfast is ready.
Looking for more breakfast ideas with quinoa? Try these Quinoa Egg Mugs, Broccoli Cheddar Quinoa Egg Muffins, or Banana Quinoa Chia Muffins.
Calories 279, Total Fat 4g, Total Carbohydrate 55g, Protein 8g, Serving Size 1 cup