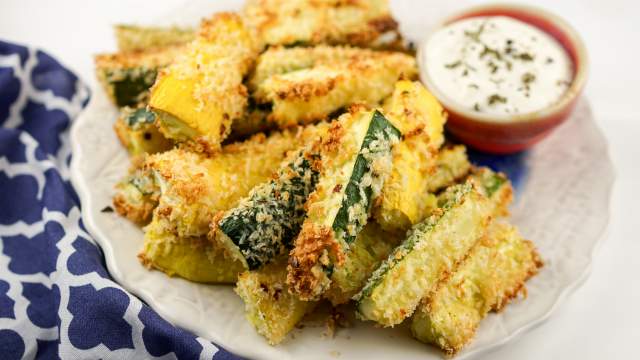 This will quickly become your new favorite healthy side dish – Baked Garlic Parmesan Zucchini and Summer Squash Wedges that are cheesy, crispy, and delish.
If you have someone you love that turns their nose to veggies, make these garlicky, panko and Parmesan crusted, zucchini and summer squash wedges immediately. The coating is crunchy, cheesy, and full of garlic and herbs. The zucchini and squash is tender and dunked in some marinara, skinny ranch, or basil pesto, it's pretty darn delicious.
True story. When I made these last week, we polished them off before they even made it to the table. It started with one, that quickly turned into two, and after about 5 minutes the tray was gone and we had dinner without a side dish. Poor lonely burgers…
Looking for more veggie fries and wedges? Try out these Rosemary Carrot Chips, Baked Skinny Fries (with potatoes and turnips!), Spicy Green Bean Fries, or Sweet and Spicy Sweet Potato Wedges.
Calories 140, Total Fat 5g, Total Carbohydrate 15g, Protein 12g, Serving Size 1 cup